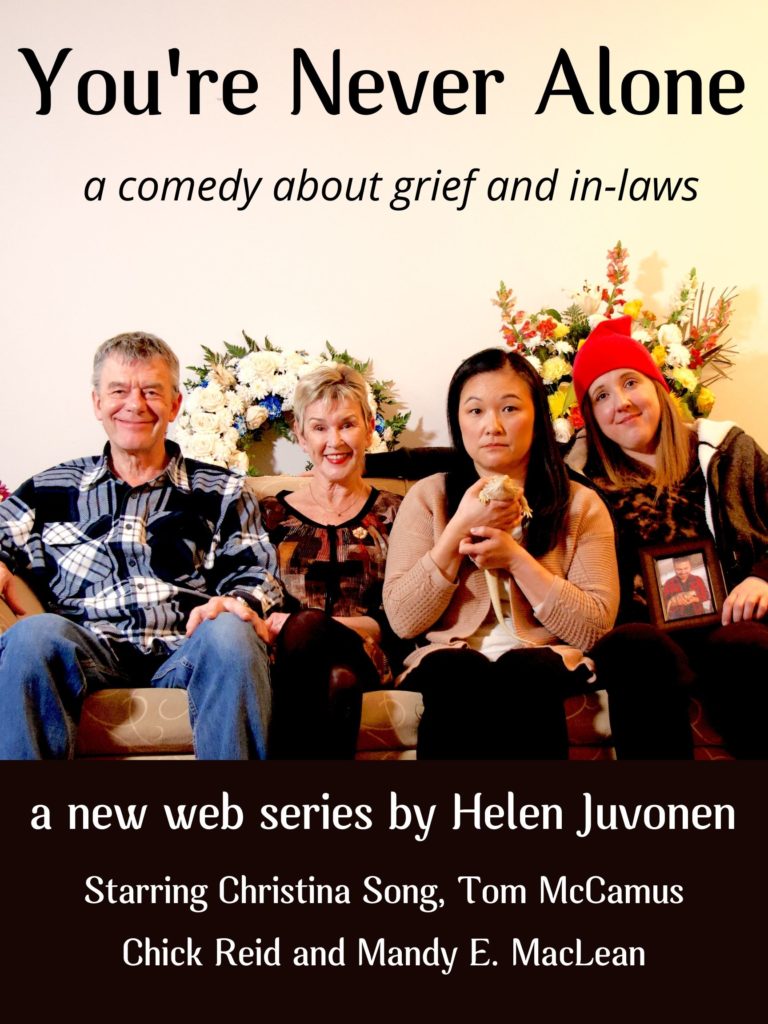 ---
Story
You're Never Alone is the darkly comic story of Maggie (Christina Song), a recently-widowed accountant in her 30s. After her outdoor-enthusiast husband (Emilio Vieira) forages a deadly mushroom, Maggie must steady herself to face the loneliness ahead. But then there's a knock on the door. Her in-laws have decided to stay with her during this time of grief.
Against her better judgement she lets them move in with her and turns her life upside down to accommodate the quirks of her husband's critical mother (Chick Reid), stoic father (Tom McCamus), and strangely combative sister (Mandy E. MacLean). Their relationships were never good to begin with but under the strain of grief and too much togetherness, Maggie struggles to assert herself against this team of in-laws trying to control her under the guise of kindness. But it's three against one and they're making themselves comfortable and turning Maggie into a stranger in her own home. How much can she put up with before it's time to take a stand?
---
Production
Directed by Helen Juvonen & Tyler J. Seguin
Created by Helen Juvonen
Director of Photography: Rachel Bundy
Producer: Geoff Read
Executive Producer: Penny Eizenga
Helen initially developed the pilot through the Women on Screen Web Series Incubator and the project was also awarded the Cayle Chernin Award for Media Arts Development in 2019. After a reading of the scripts in early 2020 the project was put on hold during the pandemic but was revived in late 2021 with the support of the Canada Council for the Arts!
Production took place in March of 2022 and the series is currently in post-production. Be sure to follow our social media to find out exactly when the series will be released!